2021 Spring Mills Annual HOA meeting will be held virtually on 2/23/2021. If you would like to join the meeting please send an email to Michelle Showers for the link.

Thank you!


Snow Removal Policy:

§ Snow will be removed from the streets once accumulation reaches 4 inches or more.
§ When there's a major storm, snow removal will begin when the storm is over.
§ In case of large accumulations, the plows will clear one lane on each street first and then return to clear the streets completely. This allows emergency vehicles to access all homes as soon as possible.
§ Streets on hills will be salted if icy.
§ Gravel from the sides of the streets might get pushed into yards. This is unavoidable, and it is the responsibility of the resident to remove it back to the gravel strip.
§ If the edge of your driveway is not completely flush with the street surface, the plows may cause damage. If you have your driveway resurfaced, it is your responsibility to make sure it is flush with the street.
§ Please do not remove or damage the reflective marker poles on fire hydrants and at the sides of speed bumps. If you see one removed or damaged, please report it to the Association.
§ If you are able, it would be very helpful if you clear out around the fire hydrant nearest your home.
§ Harassment or threats to the snow plow operators will not be tolerated and will be prosecuted as criminal acts.
Please be aware that the process of completely clearing the streets might take two or more days, depending on the severity of the snow.

~ Michelle Showers, Community Manager

The Spring Mills Board of Directors meets virtually on the 3rd Tuesday of each month (except December) at 7 p.m. virtually until further notice. If you have any concerns or compliments please email Michelle the Monday before each board meeting by 5pm.
Thank you!!!!






---


Spring Mills is an award-winning, planned residential community of single family homes, villas, and town homes.
Located in the Falling Waters area of northern Berkeley County in the Eastern Panhandle of West Virginia, Spring Mills provides quiet country living.


Proud Member of: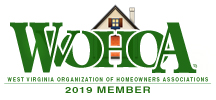 ---
Our community offers a full range of recreational facilities


Community Park
Large Community Pool
Kiddie Pool, Shower and Restroom Facilities
Tennis Courts
Playground
Walking Paths
Nature Trail
Spring Mills Unit Owners' Association maintains:


Grounds and Roads
Pool & Family Park
Finance
Community Development
Communications
Code Enforcement
Architectural Review